Carbis Bay to St Ives walk
In this blog I'm going to talk about the Carbis Bay to St Ives walk
Firstly, welcome to my website, Kernow Personal Trainer.
My names Ollie. I'm a personal trainer and nutritionist offering a range of PT services across west Cornwall. You can check out my personal training services by clicking HERE
As a personal trainer I promote exercise and general activity. I've been an advocate of walking for a long time. Way before trying to hit 10,000 steps per day was cool.
The Carbis bay to St Ives walk is one of Cornwall's many fantastic walks and links up these 2 fantastic areas.
Most people, even non Cornish people, have heard of St Ives before. It's one of the most popular destinations for tourists that Cornwall has to offer.
Carbis Bay on the other hand is less well known but that could all change in the coming years as it's received a huge injection of money and the development in area is vast.
How far is the walk from Carbis Bay to St Ives?
The walk between Carbis Bay and St Ives is a pretty short one. You can pick up the south west coastal path from Carbis bay and it will take you straight into St Ives after about 1 mile of walking.
All in all it probably won't take much longer than 30-40 minutes to complete.
How difficult is the Carbis Bay to St Ives walk?
Obviously it's difficulty level drops simply based on the relatively short distance between Carbis Bay and St Ives.
It's also not particularly challenging terrain wise either.
There are some pretty steep sections on the route but a lot of that section of coastal path takes you past some pretty stunning houses and therefore you'll be walking along narrow lanes and roads as opposed to muddy trails.
How scenic is the walk from Carbis Bay to St Ives?
Despite being a relatively short walk you can expect to see some pretty fantastic scenery.
I've been watching the development at Carbis Bay over the years and it's pretty fantastic.
Perhaps the most iconic building in Carbis is the Carbis Bay hotel, built in 1894. The south west coastal path actually disappears from the map once it hits either side of the Carbis Bay hotel but you can still make your way through without having to deviate too far.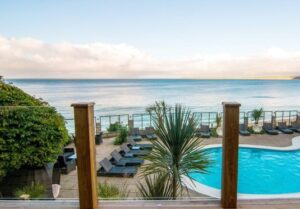 The hotel itself overlooks Carbis Bay beach which is generally much quieter than its St Ives neighbour. Since the new development you can also see an array of new apartments built right on the beach front each equipped with it's own hot tub.
From the very start of your walk you'll be seeing some great views and interesting scenes but the development is perhaps a little distracting from appreciating the actual Bay itself.
Once you've picked up the south west coastal path to the west of the Carbis Bay hotel you're taken down small lanes and roads.
The first section is where you can really appreciate the views across the bay and then the path leads you past some pretty incredible properties before entering into St Ives.
The approach into St Ives is where you see some pretty steep sections of the walking path.
I won't go into detail about what St Ives has to offer or we'll be here all day. You'll be walking into one of the most thriving towns Cornwall has to offer but the south west coastal path will take you right onto the front.
You can also look out for the train that runs along the coast from St Erth. It's said to be one of the most breathtaking train journeys in England and having done it, I can attest that it's pretty incredible.
How does the Carbis Bay to St Ives walk compare to other Cornish walks?
I'll be honest, this walk holds a special place in my heart.
It was during this walk in 2019 that I proposed to my girlfriend but I actually did the proposal on Lelant beach before walking to Carbis Bay and onto St Ives.
If you do pick up the walk from Lelant you'll add a couple of miles to the walk and get some incredible views across Porthkidney beach.
The section of the walk between Lelant and Carbis Bay is far more rural and you'll get better views across the bay. It's more challenging so appropriate footwear would be recommended if you add in this section to your walk.
The Carbis bay to St Ives walk isn't the quietest section of coastal path in Cornwall so you can expect to see some other walkers along the route, especially during peak season.
If you decide to carry on along to St Ives head you'll have to tackle the crowds along the front but if you want to social distance you can always turn back once you've descended into St Ives and head straight back up again and make the return journey back to Carbis Bay.
Carbis bay to St Ives walk GPS route
Check out a the GPS route for this walk HERE
Carbis bay to St Ives Walk - FAQ's