Introducing Kickboxing classes in Cornwall
I'm really excited to be bringing my kickboxing classes to Cornwall.
For the last ~10 years I have been delivering them in London and they have proven to be highly popular.
When I first got into the health and fitness industry I wanted to include martial arts as part of my personal training service as it's a huge passion of mine.
At first, I taught Mixed Martial Arts classes in gyms across South London. Back then, MMA was an underground sport and so my potential for cliental was limited.
It didn't take long to start getting enquiries from the other gym goers about the kickboxing classes. Whilst lots of them didn't necessarily want to take part in the group MMA classes, they did want to have one to one sessions where they could learn to do kickboxing.
I decided to start marketing kickboxing fitness classes to the general public and it took off straight away.
Why are kickboxing fitness classes so popular?
Well, I can only speculate from feedback that I've garnered from clients over the years, but kickboxing is fun.
LOTS of people struggle to maintain exercise as part of their routine and to keep it up on a consistent basis.
Unless you inherently enjoy going to the gym or going for a run then it can be a pretty hard slog to push yourself exercise.
However, doing something you enjoy is different. If you can find an exercise that's enjoyable then half the battle is already won.
There seems to be something about kickboxing that strikes a chord with people. It's incredibly satisfying punching and kicking pads. It's not only great for flexibility, cardiovascular health and functional fitness, it's also a great way to relieve stress.
I've had clients in their 60's who absolutely love to do kickboxing and boxing training as part of their personal training sessions.
What makes my Cornish kickboxing classes different (and better)?
Most people have probably heard of boxercise before.
Well, I hate boxercise!
At least, the boxercise classes I've seen being taught in gyms over the years, I hate.
And that's because they really are rubbish for the most part!
I've also seen a LOT of personal trainers using focus pads to do boxing with their clients. This is usually moderately better than boxercise classes but it's still usually pretty bad.
Kickboxing (and boxing) is an art form! Have you ever heard boxing being referred to as "the sweet science"?
Well, that's because it is.
And in order for kickboxing and boxing to effective and fun you need to have someone who knows what they're doing when it comes to not only throwing effective punches and kicks but ALSO holding the pads properly.
Pad holding in itself is an art form. The relationship between the pad holder and kick boxer is important.
Overtime you develop a certain flow together, that just makes the process so fun and easy.
Boxercise classes normally consists of things like throwing 50 right punches followed by throwing 50 left punches and so on.
And worse still, the person holding the pads isn't providing resistance to the punches and kicks or positioning themselves properly.
NO NO NO!!!
There's nothing fun or effective about doing that.
Fortunately for YOU, I've been doing kickboxing, specifically Muay Thai kickboxing for nearly 20 years.
I started when I was 15 and fell in love with it straight away. When I was 18 I decided to travel to Thailand to train with the Thai kickboxing champions during my gap year.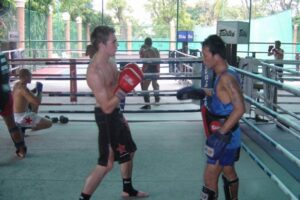 My friends all thought I was crazy. Whilst they prepared for their backpacking adventure around Australia and Asia, I went off to Thailand on my own to train traditional Muay Thai.
These days it's actually pretty common to go and train kickboxing and MMA abroad. The "influencer" market has normalised travel in that way.
Way back when I went 15 years ago, Facebook was only just on the scene!
Anyway, the point is, I'm highly experienced in Kickboxing.
And better still, since I've been coaching kickboxing for ~10 years, I've actually become a better pad holder than I am an actual kick boxer.
So, doing kickboxing classes with me in Cornwall is a sure fire way to enjoy your exercise, learn authentic kickboxing and become fitter and healthier.
Also, my sessions can be structured to your desire. Some clients like to do 45 minutes of pure kickboxing whilst others like to do some more conventional exercises for the first half of the session and then kickboxing for the second half.
---
Already convinced and want to enquire about training with me? Then Click HERE to get in touch
---
What is Muay Thai Kickboxing?
I've talked a lot about kickboxing and in particular Muay Thai kickboxing.
So what is Muay Thai?
This is some footage at Fairtex kickboxing camp where I trained in Thailand. Unfortunately I don't have any footage of me but I found this on Youtube. 
Well, Muay Thai or Thai kickboxing is a specific style of kickboxing that originates from, you guessed it, Thailand! And I'm bringing to my kickboxing classes in Cornwall!
It's often referred to as the science of the 8 limbs as striking with the hands, feet, elbows and knees and allowed.
Now, it's easy to be put off and scared by Muay Thai because the competitive side of it is quite hardcore.
People are often quite shocked when they see it for the first time.
However, there are a couple of things to take into account.
Firstly, Muay Thai is the Thai national sport. Thai children often start training literally as soon as they walk and are competing by the age of 4.
Professional Thai kickboxing is often seen as a potential way out of poverty for lots of families and so they enrol their children early.
As a result of a lifetime of training Muay Thai practitioners develop immense conditioning.
Honestly, when I first went to Thailand and sparred with some of the Thai's it was like punching thick planks of wood.
They are extremely well conditioned to what they do and what looks like a very painful punch or kick to most people, it's not to a Thai kick boxer.
The second thing to remember is, I don't train competitive Muay Thai fighters. I train the general public.
All I'm doing is teaching you the techniques which you can practise on with the nice soft pads.
I don't offer sparring as part of my sessions either.
None of my clients get punched or kicked EVER. You're the ones who do the punching and kicking...on pads.

You can read more about the history of Muay Thai HERE
What are the benefits of kickboxing for health and fitness?
There are some incredible benefits to kickboxing fitness classes that go way beyond the more obvious ones.
Yes, of course it will improve cardiovascular health, psychological heath and help you to maintain your general health but it also helps in many other ways.
Kickboxing will help you develop fantastic flexibility, particularly in your lower body.
In order to kick effectively you need to have a certain level of flexibility in your hips. Over time with specific exercises and the repetitive motion of throwing kicks during your kickboxing classes you will "set your hips free".
The term "functional training" has invaded the fitness space over the past few years and quite frankly I find it very annoying.
It's become another marketing buzzword.
It annoys me because in amongst all this marketing for "functional fitness" people have lost sight as to what functional fitness really is.
Functionality is measured by how efficiently we can move around in everyday life. how well we can perform out most common, basic and primitive movements.
I would argue that the squat is the MOST functional movement there is. Going from sitting to standing and standing to sitting is the most common movement pattern we do on a daily basis.
Well my kickboxing classes will help you to develop movement in all planes of motion. Moving forwards and backwards, laterally and rotationally.
Strength and conditioning
A proficient kickboxing pad holder positions themselves perfectly in relation to the kick boxer. If the positioning is correct the strikes can be developed nicely.
It's the pad holders responsibility to effectively "catch" the strikes that are being thrown and provide resistance to the limb that's striking the pad.
For example, if the kick boxer through a kick and the pad just moved backwards as it was struck it would provide no resistance and the leg of kick boxer would not develop any strength or conditioning.
A proficient pad holder will catch the strikes and provide the perfect amount of resistance to help condition and strengthen the limb of the kick boxer.
My kickboxing classes in Cornwall will help you develop all the above and much more.
Where do I offer my kickboxing classes in Cornwall?
My Kickboxing classes in Cornwall will be available in Hayle, Carbis bay, St Ives, Penzance, Marizion, Gwithian, Llant, St Erth, Newlyn, Longrock and other places in surrounding areas.
They can be done in local parks, beaches or in your home and garden.
Do you need any equipment for my Cornish kickboxing classes?
I will be providing all the necessary equipment for my Cornish kickboxing classes. However, for clients who enjoy it and want to train regularly I always encourage to invest in your own boxing gloves. It's far more hygienic to limit one pair hands to one pair of gloves.
Other frequently asked questions about my kickboxing classes in Cornwall