Allow me to introduce myself...
My name is Ollie.
I'm a personal trainer and certified nutritionist specialising is general fitness, muscle gain, fat loss, kickboxing and overall health.
I've just landed in the beautiful Cornish countryside and I've set up my new personal training business....
Kernow Personal Trainer.
I'm already utilising the local Cornish lingo!
I'm super excited to be here having just spent the last decade offering my personal training and nutrition services in London.
After living a fast paced urban lifestyle for so many years I'm happy to put the breaks on and adapt to my new Cornish lifestyle.
Before I tell you more about my new Cornish based personal training services I'll tell you a little more about me, my background and how I ended up here.
Bristol>Bournemouth>London>Cornwall
I was born in Bristol and enjoyed my upbringing there as a social and outgoing guy who loved sport.
My main sport from a young age was Tennis but I also enjoyed skateboarding in my teenage years and of course the usual activities that are part of school life. I also developed a passion for martial arts and started training in Thai kickboxing and Jujitsu at around 15 y/o.
Around the age of 17 I decided I wanted muscles. I was a skinny kid and so the the idea of building a muscular physique was very appealing at that age.
Of course I had no idea what I was doing and didn't have the money for a personal trainer at that age so it was just a case of winging it in the gym and drinking 3 protein shakes a day.
I did fall in love with the gym pretty quickly and it has remained a fixture of my life ever since.
From Bristol I headed off to Bournemouth to attend university. At that age I had no idea what I wanted to do in my career and so I chose Business studies as my subject mainly because I did well in it at A-level.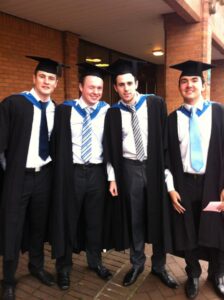 If I could go back in time with my more mature head I would choose nutritional science or sports science.
After Uni I moved to London and worked in the hotel industry for a few years as a concierge before setting up business in the health and fitness industry.
My London based business, MMA Exposed, offered kickboxing inspired personal training sessions which proved highly popular. I utilised my experience training and living in Thailand for 6 months during my gap year to offer authentic Muay Thai styled kickboxing training.

I also provided personal training sessions in local gyms and private household gyms. It's quite incredible just how many people have home based gyms and it's amazing what can be achieved with only basic equipment. These sessions focused on hypertrophy (muscle/strength gain), fat loss and general health.
As a certified nutritionist I offered nutrition services as part of personal training and also as an independent service.
I also run an online membership website called Wise Fitness Academy which offers online training exclusively for older adults. Click HERE to find out more about that if you're aged over 55.
---
Already convinced and want to enquire about training? Click HERE to get in touch 
---
London>to being a personal trainer in Cornwall
That just about brings me to the present day and my new life as a personal trainer in Cornwall.
They say don't change things if they're not broken and so I have brought all my London personal training services to Cornwall.
What do I specialise in when it comes to personal training?
I've garnered a lot of experience as a personal trainer over the last 10 years and developed a pretty broad skillset. I'm excited to be bringing my services to Cornwall.
I'll briefly detail some of the things I specialise in:
I'm a fully certified MNU nutritionist which means my approach is rigorously dictated by science. The Mac Nutrition University (MNU) is on the of the most sought after and highly prestigious nutrition certifications in the world. I was lucky enough to enrol on the 2017 intake. Today, getting a place to study MNU isn't an easy task.

I have a particular interest in sustainable fat loss and love to educate my clients about fat loss along the journey. You won't get a cookie cutter, generic 12 week diet plan from me. It does mean that clients need to be ready and willing to put the effort in to achieve the results they're after.
This is also known as hypertrophy. There's a lot more to gaining muscle and strength than just going to the gym and lifting weights. Of course, that is a big part of it, but there are optimal ways of doing it. Having a well structured and planned out programme is essential to getting results from your efforts.
Muay Thai, also commonly known as Thai kickboxing is the national sport of Thailand. It utilises punches, kicks, knees and elbows and whilst the competitive side of Thai kickboxing is pretty hardcore, the training side of it is fantastic for overall fitness and it's really fun to do.
There's nothing more satisfying than punching and kicking your stress out on the Thai boxing pads.
My Personal training services in a little more detail
Cornwall kickboxing fitness classes
I'm really excited to bring my kickboxing fitness classes to Cornwall. Kickboxing fitness sessions can be booked in local parks, beaches or your house/garden. I'm more than happy to travel to local areas (Hayle, St Ives, Carbis Bay, Penzance, Marizion) and will also provide all the necessary equipment.
You can read more about what's involved in my Cornish kickboxing fitness sessions HERE.
Mobile personal trainer in Cornwall (pending easing of Covid restrictions)
I'm going to be upgrading my home based Cornish Personal training service by providing all the equipment needed. In London, no one drives. It's just not economical.
In Cornwall however, it's very hard to get by without a car. And so I'll be buying a van so I can transport weights, resistance bands, dead balls, Swiss balls and other fun bits of personal training equipment around with me. I can bring the gym to you. All you'll need to provide is some space to do it.
Most of my clients who train at home do it in their living rooms or kitchens. Your garden or local Cornish park also works brilliantly (especially in the summer)
This service isn't technically limited to those of you living in Cornwall. Even before the pandemic I was involved in online personal training and fitness classes.
In fact I was part of a core team of 3 who established one of first online training businesses in the world way back in 2016. This was way before it was "cool" or necessary because of Covid.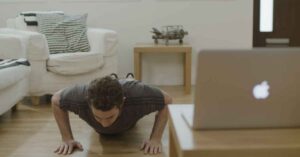 Back then the idea of online training wasn't a mainstream thing at all. Fast forward to the present Covid times and the online fitness market has accelerated more in 18 months that it probably would have over the next 10 years.
But do you know what, it works great for personal training.
I have clients in Greece and Australia (as well as the UK) and train some of them 4 times per week.
The wonders of technology makes quality online training a realty. I have extensive experience in training clients remotely via video calls.
And that just about sums up me and my experience 🙂
What areas in Cornwall will I be available in?
Hayle
St Ives
Carbis Bay
Gwithian
Longrock
Penzance
If you're looking for a really friendly and highly experienced personal trainer in Cornwall then look no further 🙂
Click HERE to see prices or HERE to get in touch